Footwear
Shoes for heel pain
Regardless of your occupation, physical fitness, or body type you could fall victim to heel pain. How can you prevent heel pain? The answer is simple, by wearing comfortable and supportive shoes. Those who are active on their feet or stand for long periods are at a higher risk for heel pain, especially when wearing unsupportive footwear. Not to mention, physical activity from standing, walking, and running on hard surfaces often contributes to heel pain. Not only does heel pain affect your foot health, but it also contributes to other issues like knee, hip, and back pain.
Best Shoes for Heel Pain
Comfortable shoes with arch support, a deep heel cup, firm heel counter, or heel support are a great choice for reducing foot pain associated with heel pain. The best shoes for heel pain will align your feet to their natural position and evenly distribute your weight across your foot. Thus, reducing the pulling of your plantar fascia, which is a primary cause of heel pain. Now that you understand the importance of wearing supportive shoes, below is a list of best shoes for heel pain.
1. Sovella PF Sandals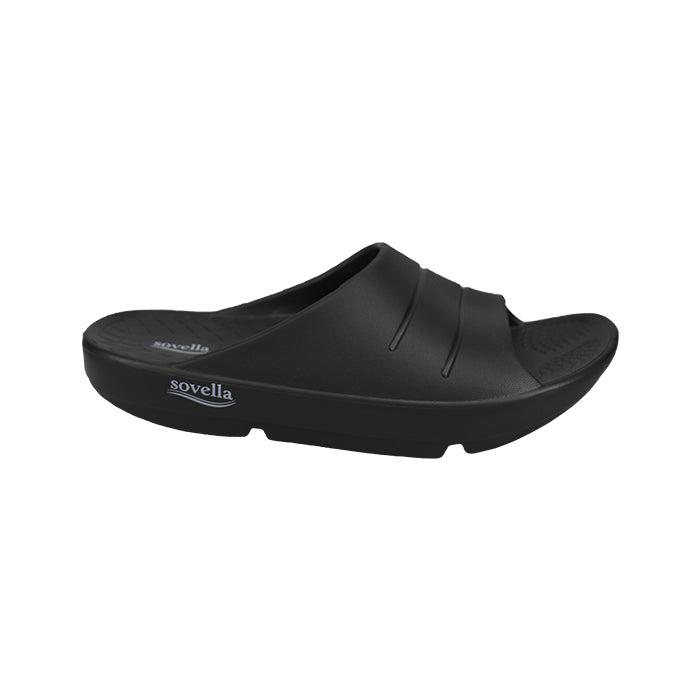 The new wave in comfort is here with the Sovella PF Thong and Slides. These high-quality sandals are biomechanically engineered to help alleviate heel pain caused by plantar fasciitis. Made from rebound foam, these sandals absorb the shock on impact. The subtle rocker bottom mimics the natural motion of walking, helping to alleviate stress from your feet. The contoured footbed with arch support and heel cradle helps to support your plantar fascia and helps to alleviate heel pain with every step. This light-weight sandal is the perfect shoe to keep by your bed and to slip on first thing each day. Your feet will feel the difference from the very first step.
---
2. Sovella Cork Shoes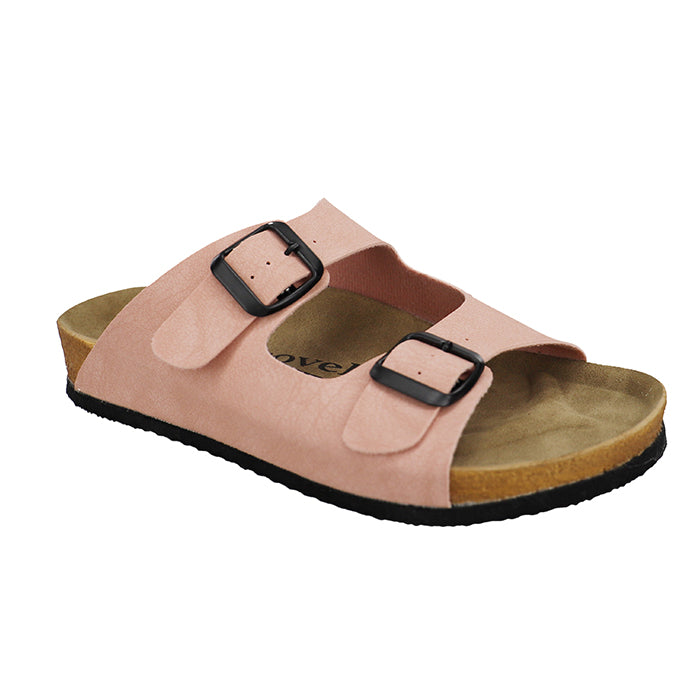 Exclusive to Lucky Feet Shoes, Sovella is on the rise to be a household name in quality footwear. This classic cork sandal is lightweight but still sturdy and supportive thanks to its contoured footbed with heel cup and built-in arch support.In addition to superior comfort, these shoes are stylish and great to wear at work or on the go.
---
3. New Balance 990v5
New Balance 990v5 is ranked as one of our best shoes for heel pain for its superior comfort and technology. The 990v5 features motion control, great for heel stability or keeping your heels in place. In addition, the midfoot cushioning keeps your heels supported while providing instant comfort. Made with removable insoles, the New Balance 990v5 can accommodate most over-the-counter arch supports and custom orthotics.
---
4. HOKA ONE ONE Bondi 7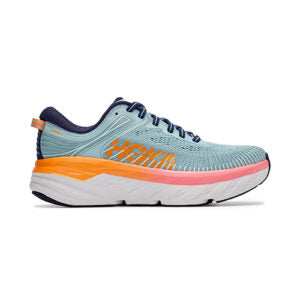 The HOKA Bondi 7 is their most cushioned shoe yet! The game-changing Bondi 7 delivers a smooth, balanced ride over any distance. The full EVA midsole offers a ton of shock absorption, great for keeping Plantar Fasciitis pain at bay. Its internal firm heel counter provides a supportive, locked-in fit midsole. The signature HOKA Meta-Rocker technology mimics your natural walking motion, allowing your foot to relax and let the shoe do the walking. Added to this already popular style is a supremely plush collar. Made from ultra-soft memory foam designed to accommodate a narrower heel, the collar conforms to a wide variety of ankles, cradling the Achilles in cushy comfort.
---
5. Aetrex Jillian
Aetrex shoes and sandals are known for their super comfort and "Healthy 3": Lynco arch support, Memory Foam, and Aegis Antimicrobial Technology. The Jillian is our pick as they are great for heel pain for thanks to their built-in arch support. Your feet will love the memory foam layer customizes to your heels and feet. Overall, these shoes and sandals are great shoes for heels for their excellent arch support, memory foam insole, and rubber outsoles. The Aetrex Jillian Black is APMA (American Podiatric Medical Association) approved.
---
6. Brooks Adrenaline GTS 22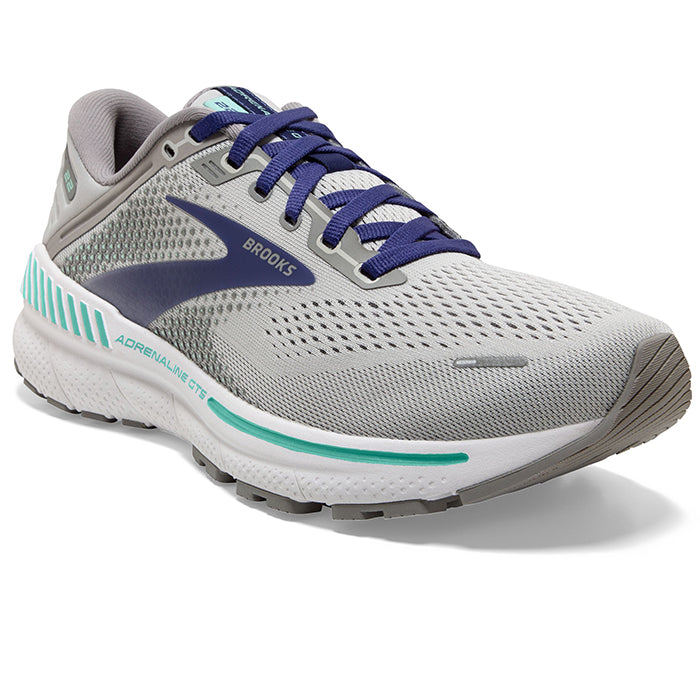 Not only is Brooks a top brand in athletic footwear but also in comfort footwear. We recommend their go-to-shoe, the Adrenaline GTS 22. Responsive cushioning and soft crash pads stacked above it work together to provide a touch of spring underfoot while cushioning each footfall. It also has a firm heel counter which makes for great heel stability. With removable footbeds, the Adrenaline GTS 22 makes it easy to put in custom or over-the-counter orthotics.
---
7. Dansko Henriette
The Dansko Henriette is a sport-inspired walking shoe that's packed with performance features. The Henriette is great for heel pain as they help eliminate it with their solid arch support and shock absorption capabilities. The rubber outsoles offer shock absorption for your heels, feet, and knees on a variety of surfaces. Not to mention, their unique constructions support your whole foot – toes, arch, and heel.
---
8. ECCO Soft 7
The ECCO Soft 7 offers top-notch innovation by continually inventing and engineering new materials that provide durable construction, shock absorption, natural support, and superior comfort. The built-in arch support and lightweight design making this a great option for those struggling with plantar fasciitis foot pain. The soft, comfortable lining construction ensures a perfect inner climate.
---
9. OluKai Ohana
OluKai provides handcrafted island-inspired designs that don't skimp on quality & comfort. OluKai's Ohana sandal is a thong sandal with arch support built-in! This makes the Ohana great for many foot problems like heel pain, Plantar Fasciitis, flat feet, and bunions. The Ohana features a compression-molded, EVA midsole footbed that provides anatomical fit for sustained comfort.
---
What is heel pain?
Heel pain is a common foot problem that is often caused by a couple of foot conditions: plantar fasciitis, heel spurs, or Achilles tendonitis. Most commonly, heel pain is usually experienced at the bottom of the heel (plantar fasciitis) or just behind it (Achilles tendinitis), where the Achilles tendon connects to the heel bone. For one thing, heel pain may become so severe for some that just standing up first thing in the morning is unbearable.
Where to Shop Comfortable Shoes for Heel Pain?
Whether you prefer to shop online or in-store, at Lucky Feet Shoes we have a large selection of the best shoes for heel pain for both men and women. But, if you prefer personalized shoe fittings, great customer service, we have nine orthopedic shoes and comfort shoe stores located in Southern California. Which are located in Costa Mesa, Anaheim Hills, Rancho Cucamonga, Riverside, San Dimas, Long Beach, Temecula, and Palm Desert. Therefore, we invite you to stop by our shoe store for a free foot analysis and try on our best shoes for heel pain. In addition, we have a large selection of orthopedic shoes, comfort shoes, wide shoes, arch support, shoe inserts, and custom orthotics! We carry a wide selection of comfortable footwear ranging from sandals, heels, walking shoes, running shoes, casual sneakers, clogs, wedges, flats, booties, and boots. Therefore, we encourage you to shop in-store for our personalized customer service and free foot analysis! Schedule a free foot analysis today!
Related Posts
Wide Width Shoes for Women 2022 All wide-footed women know the struggle of finding wide width shoes. Too many times you find great looking shoes that you know would look great with your outfits but later realize that they are not offered in wide widths. So why keep breaking your heart shopping shoe website or […]
in-store events, sale
Back to Blog Footwear 20 Comfortable Shoes For Standing All Day 2022 When it comes to buying shoes, we tend to buy based on style over comfort and whatever is affordable within our budget. We never stop to think about how to choose the right shoes for our feet so that our feet won't hurt. […]
in-store events, sale
What are Bunions? First off, what is a Bunion? Well, in the simplest explanation it is a painful swelling on the first joint (MTP) of the big toe. The most common reason a Bunion is formed is due to prolonged pressure against the inside portion of the 1st MTP joint. What causes prolonged pressure on […]
in-store events, sale