How Comfort Slippers Protect Your Feet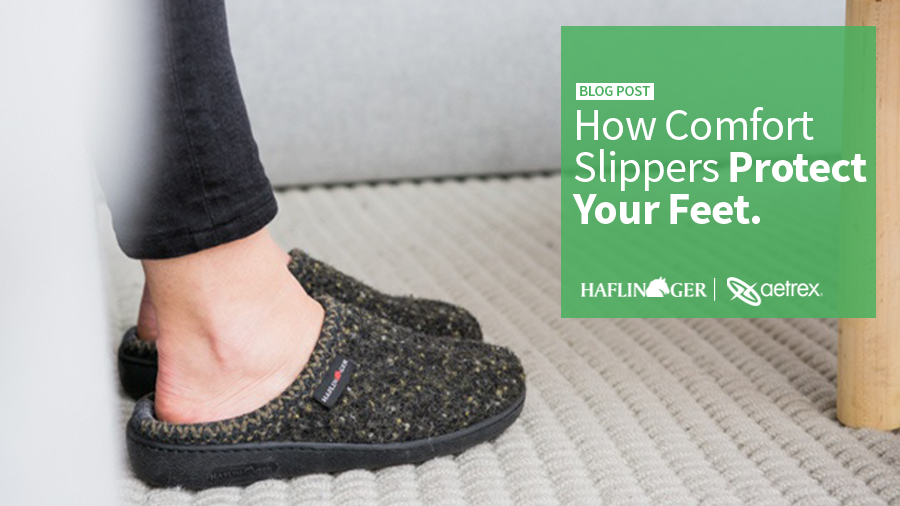 The thought of quickly slipping off your shoes and socks when you get home -- especially after a hectic day on your feet -- can be extremely tempting. And, for good reason - allowing your feet to finally breath after a long day's work is undoubtedly one of the best feelings one could experience. However, unless you plan on laying in bed for the rest of the day, you should consider wearing some sort of footwear. Why? It's simple: walking around barefoot could have dire consequences when it comes to the health of your feet, even if you only plan to do a few chores around the house.
Why Walking Barefoot is a Bad Idea
Once upon a time (thousands of years ago), humans walked everywhere barefoot. This quickly became unsustainable, thus the
creation of the sandal
. Fast forward to today, and footwear is much more advanced when it comes to boosting stability and comfortability while walking and running. While shoes are a must for our everyday life, according to a
board-certified podiatrist
at
HealthLine
, they keep us from using certain muscle groups in our feet. This means that when we walk barefoot we are constantly at risk of foot injury due to the inactivity of these muscle groups during the day. This fact is even more pertinent in those with existing foot problems such as plantar fasciitis, fallen arches, and diabetic neuropathy. Beyond the risk of injuring your feet, there are many other reasons why walking barefoot is a bad idea:
Hookworm Infection -
As surprising as it may be, hookworm is not solely a risk for your dog or cat. These parasites live in dirt and the feces of other animals and can be contracted through skin contact. This is why walking around outside without footwear should be avoided at all costs.
Walking Hazards -
From stubbing your toe on the edge of a coffee table to stepping on a sharp object -- such as a rock or nail -- wearing shoes or comfort slippers around the house is imperative to protecting your feet from an array of walking hazards.
Falling Objects
One of the biggest reasons you should wear slippers around the house is the risk of heavy objects falling on your feet. The best way to avoid a bone fracture or break -- and a trip to the emergency room -- is to simply put on a pair of comfort shoes or slippers.
Wearing Comfort Slippers Around the House
Comfort slippers are a convenient way to protect your feet from injury and other risks, without forcing you to keep your shoes on at home. The greatest part about wearing slippers is the convenience of taking them off and on, but they can also be stylish. With so many brands out there, you may be lost when it comes to choosing the
comfort slipper right for you
. At the end of the day, you may seek slippers that offer the lowest price. However, keep in mind, cheap slippers from your local box store do not offer the proper cushioning and support to help you protect your feet. Instead, you should look for moderately priced comfort slippers online from a company known for offering footwear for foot ailments. At
Lucky Feet Shoes
, we offer a wide range of comfort slippers from multiple brands. With that said, two of our most popular brands for slippers are Aetrex and Haflinger. These brands boast multiple colors and styles for everyday use around your home.
Aetrex Comfort Slippers
Aetrex is a brand known for providing the best in insoles and footwear to support your arches and solve the most common foot ailments, and the company's selection of comfort slippers are no different. Here are a few slippers by Aetrex we think you'll love:
Aetrex Shelby - $69.95
The Aetrex Shelby is a casual women's slide sandal style slipper with ultra soft fabric uppers, an adjustable hook and loop strap, and built-in arch support. Features:
Terry Cloth upper and lining
Warm open toe slipper
Adjustable hook and loop closure
Contoured footbed provides arch support and heel realignment that mitigate the effects of pronation
Flexible midsole further reduces stress on feet, ankles, and knees with substantial shock absorption
Available in Coffee, Black and Pink
---
Aetrex Mandy - $69.95
Looking for a warm closed-toe Slipper with some serious support? Look no further than the Aetrex Mandy Women's Closed-Toe Slipper. Features:
Mild arch support with a terry cloth upper
Contoured footbed to provide arch support and heel realignment that mitigate the effects of pronation
Flexible midsole further reduces stress on feet, ankles, and knees with substantial shock absorption
Available in Coffee and Black
Haflinger Comfort Slippers
Founded in Germany, Haflinger is a family-owned business that has been offering stylish comfort shoes and slippers for over 50 years. Here are the most popular slippers by Haflinger available:
Haflinger Journey - $132
The Haflinger Journey Grey clog is constructed of the finest suede. The contoured heel seat absorbs shock. The cork-latex footbed provides arch support for proper weight distribution, balance, and utmost comfort. It is lined with soft, vegetable-tanned calfskin to prevent allergies and irritation. Features:
Boiled wool upper
Adjustable hook and loop instep strap
Wool Felt liner
Cork and latex arch support
Cork midsole
Cork outsole
Available in Grey
---
Haflinger AS Soft Sole - $75
The Haflinger AS Soft Sole Black women's slipper is packed full of health and comfort features. The natural boiled wool upper is very lightweight, soft and cuddly, yet very sturdy. It molds to the foot like a second skin while letting the foot breathe freely. It is the breathability of boiled wool that will keep your feet at room temperature all the time, never giving you the hot, perspiring foot so common to synthetic slippers. Features:
Breathable Boiled Wool Upper
Moisture-Absorbing, Insole Liner
Latex-Molded Arch Support
Double-Felt, Non-Skid Outsole
Available in Black, Grey, Natural, and Navy