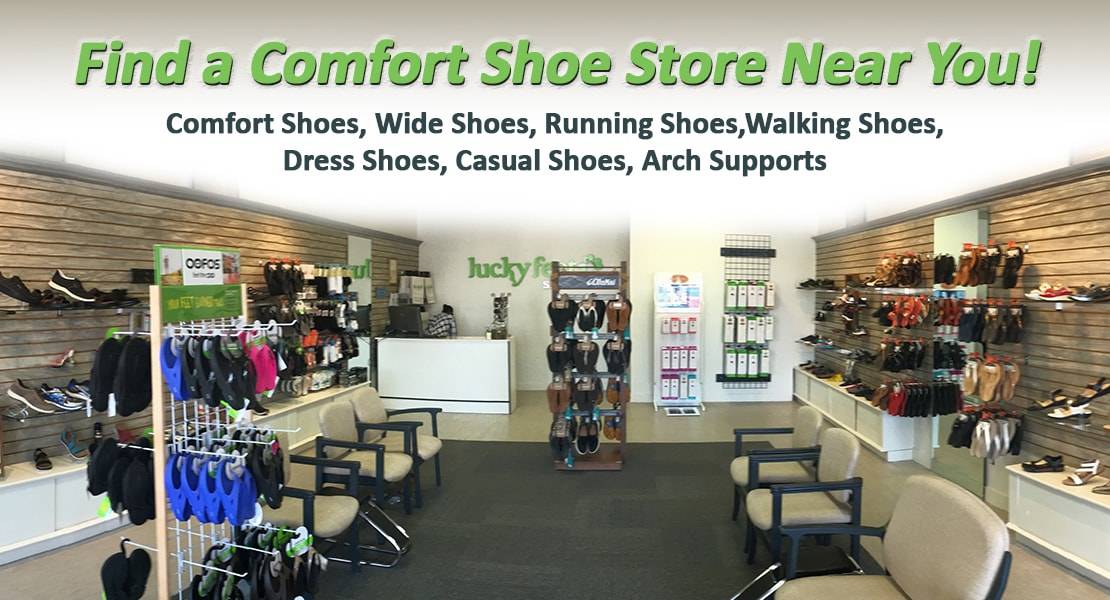 Footwear
Best Comfortable Shoe Store Near You
Find the Best Comfortable Shoe Store Near You
What makes Lucky Feet Shoes the Best Comfortable Shoe Store near You?

So what is Lucky Feet Shoes? Lucky Feet Shoes differs from other stores as we are committed to excellent customer service and providing the best comfort shoes for foot pain. We are committed to comfort footwear that not only looks good, but feels good too! We're happy to show you with Lucky Feet Shoes, "comfort never looked so good". Hence, every Lucky Feet Shoes store offers shoes, boots, and sandals you'll love in your favorite comfort brands.


Whether you are looking for comfortable shoes, wide shoes, running shoes or walking shoes; you are sure to find them at a Lucky Feet Shoes comfort shoe store near you. All of our Lucky Feet Shoes stores offer free shoe fittings and free foot analysis by skilled pedorthists. Therefore, if your feet hurt or looking for a comfortable shoe store near you; visit any of our Lucky Feet Shoes stores, our friendly staff will be happy to help you! Click here to find a store near you.


Why Should You Visit a Comfortable Shoe Store Near you?
As previously mentioned we are committed to excellent customer service and providing the best comfort shoes for foot pain! Furthermore, our skilled Pedorthists are eager to fit you into properly fitted shoes, help you reduce foot pain through comfort shoes, and find you the best arch supports or orthotics for your unique feet. Click here to find a store near you.


Free Foot Analysis
We offer free foot analysis to all our customers! For one thing, our free foot analysis lets us determine your foot type and the nature of your gait (the way we walk & run). Therefore, our trained pedorthists spend about 30 minutes with you to obtain an accurate analysis of your feet. Based on the results, we offer footwear solutions, arch supports options and discuss custom orthotics for your specific needs! That way, we can offer the best solutions for your foot problems and make your satisfaction our priority! Click here to schedule a free foot analysis!


DURING YOUR FOOT ANALYSIS, ONE OF OUR TRAINED PEDORTHISTS WILL:
Measure both of your feet for length, width and arch length.


They will measure your feet from both a seated and standing position, allowing them to get an accurate size. After determining the correct size of your feet, we then recommend the shoes and insoles that perform best for your individual needs.

Perform a gait analysis.
Perform a foot and joint flexibility analysis.
Provide a digital foot scan.

Our digital pressure mapping system shows us the pressure distribution on your feet while standing. A main cause of pain in the feet is improper pressure distribution. By analyzing your personal pressure distribution, we can offer products that will help evenly distribute pressure across your feet, such as arch supports.

Perform a balance test.
Trained Pedorthists
Our staff are trained Pedorthists that can help alleviate foot pain and answer questions on how to improve the comfort of your feet. They work hard to provide the best foot solutions for your individual needs, no matter what foot problems you may have.


Each of our Pedorthists is trained in foot pathology, biomechanics, shoe construction, shoe modifications, casting for and making custom foot orthotics and insoles. We understand how shoes and inserts work with the feet and how they prevent foot issues and can help improve mobility.


We are also New Balance Pro Care Fit Specialists.


Personalized Customer Service
As soon as you walk into a Lucky Feet Shoes store, you are greeted with a friendly smile. Our staff is trained to deliver a personal touch and make you feel welcomed from the moment you set foot into a Lucky Feet Shoes stores. We strive to deliver the best customer service possible and inspire our customers to come back through our personalized service and quality of products. Visit us today at a comfortable shoe store near you and find out why our customers keep coming back! Click here to find a store near you.


Shop a Wide Selection of Comfort Shoes and Footcare Products
Where can I find a comfortable shoe store near me?
Lucky Feet Shoes stores are located throughout Southern California. Therefore, if you are looking for a comfortable shoe store near you in Orange County, the Inland Empire, Los Angeles County, Temecula or Riverside; we have nine stores to serve you! Come into any of our stores located in Costa Mesa, Anaheim Hills, Rancho Cucamonga, Riverside, San Dimas, Long Beach, Temecula, La Quinta, and Palm Desert to shop our wide selection of comfort shoes! At Lucky Feet Shoes, we carry many comfortable shoes: sandals, heels, walking shoes, running shoes, casual sneakers, clogs, wedges, flats, booties, and boots. Come and visit at any of our nine comfort shoe stores in California! Click here to find a store near you.


Request Your Personal Fitting


Related Posts
Being a nurse can be one of the most rewarding career paths, especially if you truly have a passion for caring for others. Not only do you get to interact with sick patients and help them find ways to feel better, but you get to work in a fast-paced environment that offers multiple challenges on […]
in-store events, sale
So how do you know if you need wide shoes? There are a multitude of signs and symptoms to look for if you're not sure if you need wide shoes or not. It is important to wear properly fitted shoes; as it is beneficial to your health and to ensure you are comfortable! 4 Reasons […]
in-store events, sale
When it comes to Bunions, it can be fairly difficult to find shoes that fit comfortably. Not only are you looking for a shoe to feel good, but you also want it to look good. Sometimes, the most supportive and best fitting shoes for a Bunion are on the bulkier side because a wider toe […]
in-store events, sale