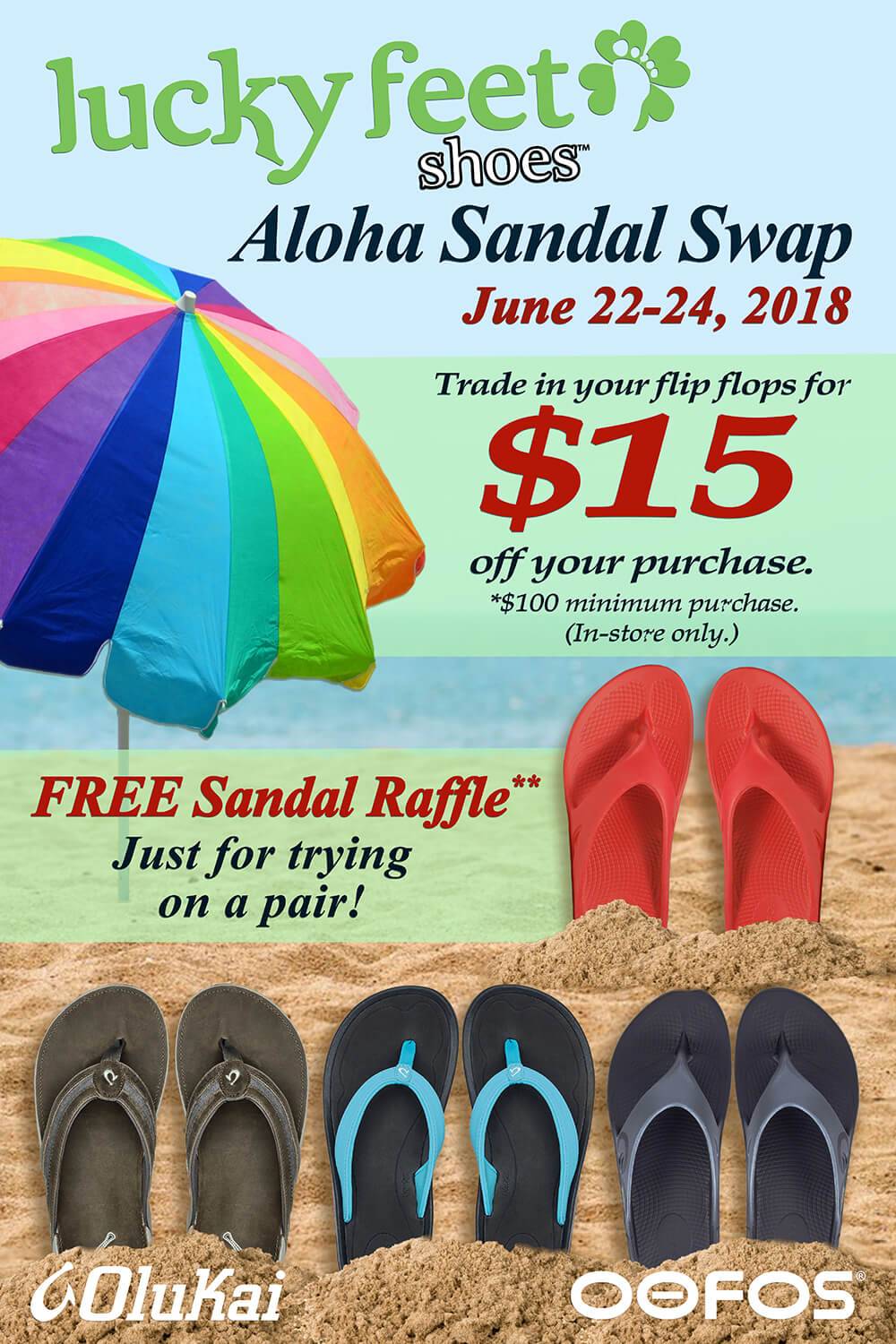 In-Store Events
Aloha Sandal Event 2018 | Lucky Feet Shoes
Aloha Sandal Event 2018 – Trade in your flip-flops for $15 Off your purchase!
Lucky Feet Shoes loves sandals! Summer is finally here so it's time to refresh your wardrobe with new sandals. Trade in your old flip-flops for $15 OFF your purchase of $100 or more. Try-on any of our newest Summer sandals' arrivals and you will be entered in our FREE SANDAL RAFFLE. Aloha Sandal Swap starts June 22nd and ends the 24th. In-store only promotion.
*Cannot combine flip-flops trade-ins, only one per transaction. Not valid on prior purchases.
**Winner will receive one pair of OOFOS or OLUKAI sandals. Valid only on select, in-stock merchandise. Not valid on special orders.
LUCKY FEET STORE LOCATIONS:
Where to Buy Comfortable Shoes
Come into any one of our stores located in Costa Mesa, Anaheim Hills, Rancho Cucamonga, Riverside, San Dimas, Long Beach, Temecula, La Quinta and Palm Desert, today and shop our Comfort Footwear! At Lucky Feet Shoes, we carry comfort footwear: sandals, heels, walking shoes, wide shoes, running shoes, casual sneakers, clogs, wedges, flats, booties, and boots. Come and visit us today! If you are looking for Comfortable Shoes in Orange County, the Inland Empire, Los Angeles County, Temecula or Riverside; we have nine stores to serve you!
Related Posts
Lucky Feet Shoes Semi-Annual Sale Don't miss out on our in-store SEMI-ANNUAL SALE! Sale begins January 19th and runs through February 5th. Preferred customers will have a chance to enjoy a special preview between January 17th and January 18th. Find select styles marked down anywhere between 30% to 80% off. Select shoes will be priced […]
in-store events, sale
SUMMER CLEARANCE SALE! Markdowns from $19.97 | Up to 80% OFF + 50% OFF the Second Pair! Don't miss out on our in-store SUMMER CLEARANCE SALE! Sale begins July 21st and runs through July 31st. Valued customers will have a chance to enjoy a special preview from July 20th to the 31st.  Find select styles marked downs […]
in-store events, sale
Memorial Day Sale 2018 – Get 10%OFF on your favorite sandals, shoes, inserts and much more! Summer starts now and so does our Memorial Day Sale 2018! Enjoy 10% OFF on all in-store sandals, shoes, inserts, and much more! Come check out our newest Spring and Summer arrivals, we've got your size. Memorial Day Sale starts May 25th […]
in-store events, sale